promotion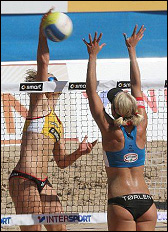 Volleyballs become more and more popular as a promotional article.
e reason is not the traditional indoor volleyball sports, but volleyball increases with the outdoor version, BEACHball. Since beachball became a member of the olympic family the number of spectators became higher and higher. The tv broadcast of the "world series" is also responsible for the high popularity today.
Beachvolleyball is a very young, trendy and sexy game. It is the right place to reach a young and sporty target group.